The Cuypers workshop, wood carvers and Roermond's fairground people
Translation: Itie en Wim Luinge
In the official "Cuypers Year" 2007/2008, the Roermond Barrel Organ Festival feels it is justified to dedicate some words to the relation between the architect Mr Pierre Cuypers on the one hand and barrel organs on the other.What is the relation? The link is formed by the sculptors and woodcarvers.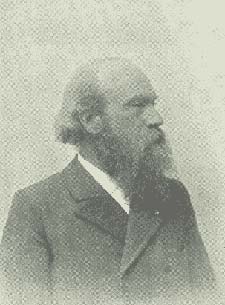 Pierre Cuypers, native of Roermond (1827 – 1921), had established his workshop for religious art in the present municipal museum in the Maastricht Road.This workshop attracted many sculptors from this country and abroad. Roermond had been well-known since the Middle Ages as a centre for sculpture, but after the establishment of the Cuypers workshops this professional group grew rapidly.
What consequences did this have for Roermond?

All these sculptors, woodcarvers, stone masons, decorators, painters, and their families settled in Roermond. Whenever Pierre Cuypers received another commission for a church or some other building, large parts of these families moved to the building site, occasionally even abroad.
They would stay there for extended periods of time. When the work was done, the whole group moved back, only to be relocated again after some time. This coming and going of families did not go unnoticed in Roermond. Again and again families had to be rehoused, children had to enter school or tuition, only to leave once again after some time.
These families had strong ties, and frequently partners were found in this small professional group. There is even one family on record where 16 relatives at one time or another either worked in the workshops of Cuypers or one of his pupils, or set up their own workshops.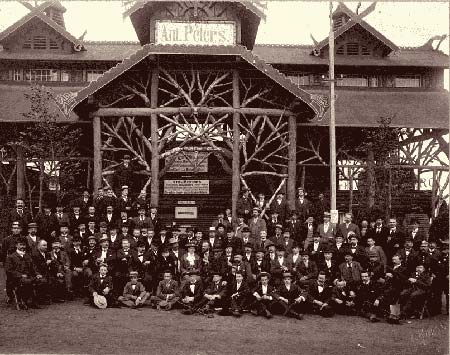 Employees Cuypers Exhibition Düsseldorf 1902
We see the same in the fairground families. Many of the famous fairground families, the so-called fairground barons, settled in Roermond. In the summer season they would tour the fairs at home and abroad, but in the winter season they returned to Roermond.
Why Roermond?
Apart from its central geographical position (large parts of Belgium, Germany and Holland were within easy reach) the presence of sculptors, woodcarvers and cabinet makers was essential.
In these families we see the same social patterns: lots of travelling families, and frequent intermarriage.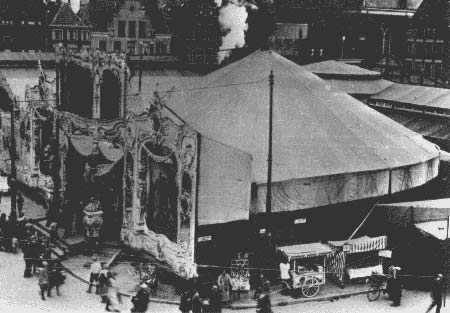 Steamcarroussel Van Bergen en Benner Xhaflaire

As soon as the funfair season was over these families returned to Roermond to use the winter break in order to fix their attractions, to renovate them or build new ones.
This is where the sculptors and decorators of Roermond come in.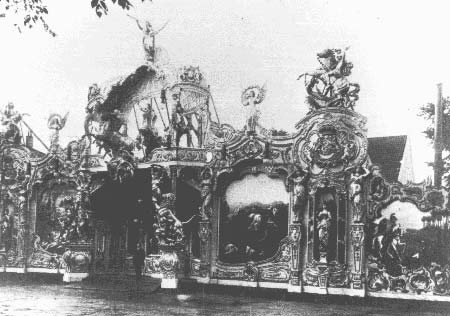 Steamcaroussel Van Bergen en Benner-Xhaflaire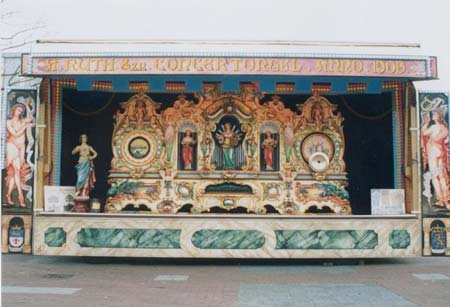 Concertorgan 38er Ruth van D. Hinzen, Roermond
In those days, fairground attractions featured barrel organs to make a good show and to enhance thefestiveatmosphere. Some families toured the land with portable dance-halls (mirror halls) and later with mobile cinemas, where again barrel organs were used for musical support. For this purpose some impressive concert organs were built. All the carving and decorative work for these attractions was produced by sculptors, woodcarvers and cabinet makers. One need only think of all the carrousels with their beautiful wooden horses and boats, and their ornate wooden panelling.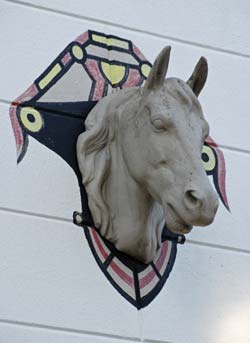 The sculptors who had started their own workshops of course had a hard time time competing with the famous Cuypers workshops. Various small workshops took up working for the fairground people. One of the best-known is that of Petrus Smeets (1865-1947). He specialised in horses and other animal figures for carrousels.
Horse on the frontage
of the workshop Smeets
Minderbroederssingel
(foto Han Ruijs)
He also produced many wooden panels and ornamentation. Not only for the fairground attractions but also for the caravans that the itinerant families lived in. So apart from sculptors, there was a need for caravan builders, metalworkers who could make the metal frames for the attractions, glaziers for the mirror halls, and decorators. Both after the introduction of the steam-driven attractions like steam carrousels and with the introduction of electricity (dodgem cars), various professional groups joined the already extensive group of people working in the fairground business.
The workshops of Cuypers and others provided employment for quite a number of people in Roermond, producing both religious art and fairground attractions and barrel organs.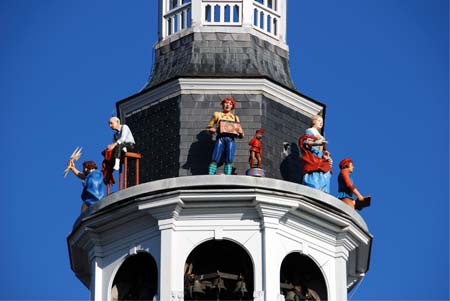 Hurdy-gurdy man on Carillon townhall Roermond ( foto Han Ruijs )
The wooden figure of the hurdy-gurdy man on top of the townhall carillon (a gift by a real Roermond fairground family) or the familiar old song about Kunkels' rollercoaster which people sing at Carnival, usually without realising what it is about, are both mementoes of this wonderful bit of Roermond's cultural heritage.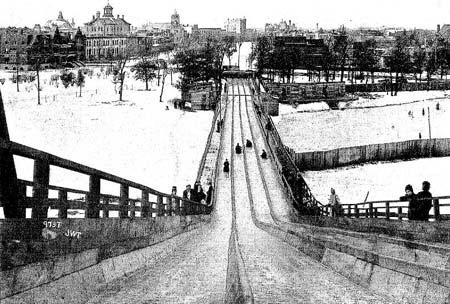 Tobogan 1878
Gradually, people's awareness of this aspect of Roermond's cultural heritage is growing, which is why we hope that this information, and the organisation of the Barrel Organ Festival will make a valuable contribution.
For the Barrel Organ Festival Team,
Charlotte Ruijs